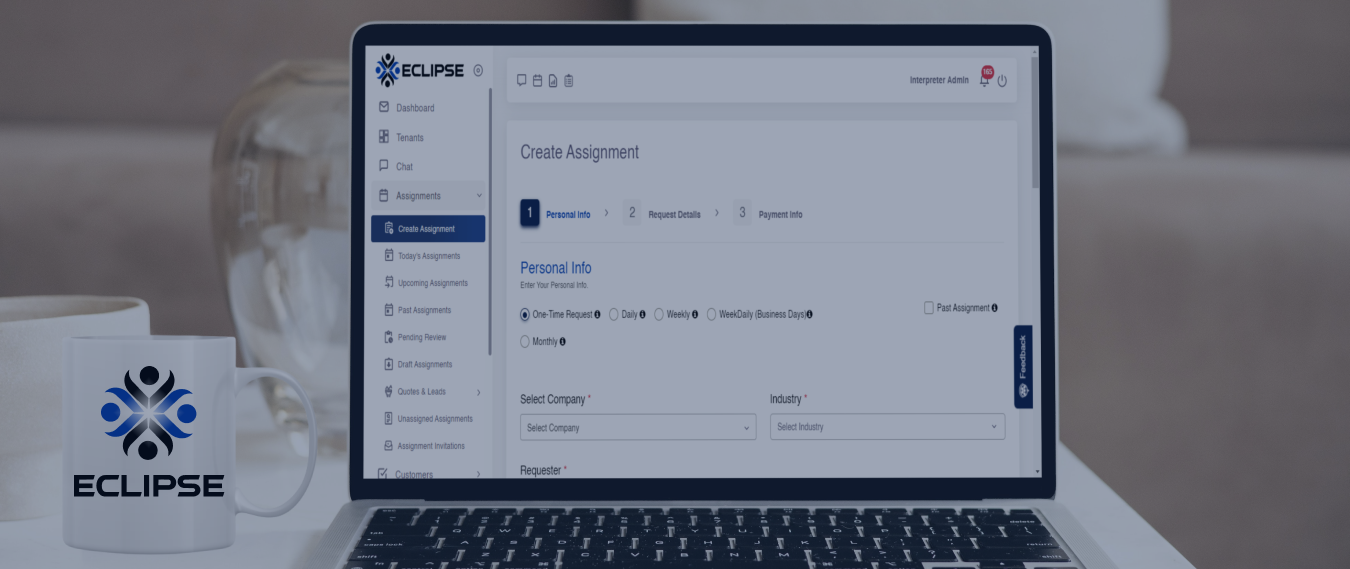 Imagine if you could manage your entire interpreting business in one platform: scheduling, billing, and payroll all from a single control center. Now imagine that this software also allows you to easily coordinate every aspect of your interpreters' appointments, freeing up their time to focus on performing their best work – no matter where or when necessary! With the launch of Eclipse Scheduling, an all new Scheduling Software for the Language Services Industry, you can do exactly that. This new scheduling solution will save interpreting and accommodation agencies time and money by empowering them with the tools they need to optimize their service management procedures and focus on what matters most – their clients' equal-access and inclusion!
Improving Efficiency in Interpreting and Accommodation Services
Eclipse Scheduling is pleased to announce its new interpreter scheduling software, built with one goal in mind: improving equal-access and inclusion across the entire language services industry. Our all-in-one control center manages requests, scheduling, billing, and payroll from a single platform—and it can be accessed from a computer or mobile device anywhere with an internet connection. We designed Eclipse to be intuitive and easy to use; saving you and your team time by optimizing your service management.
What are Eclipse's Key Features?
Our software is ideal for interpreting and accommodation agencies because it automates and streamlines many of your day-to-day tasks, saving time and money. Here are some of our main features:
– A single platform that manages your scheduling, invoicing, and payroll (and now your requests); – Real-time availability analytics to see which interpreters are available at a given time or location;
– Automated broadcasting capabilities to fill last minute spots quickly by sending email and SMS invites to other interpreters who have availability in their profile;
– Simplified customer invoicing that allows agencies to bill an entire customer's services to a single office or multiple offices;
– Intuitive interpreter invoices and remittances that allow for instantaneous updates to providers' payroll (Now compatible with QuickBooks!);
– New interpreter applications and customer quotes and leads forms to continue to grow your business;
– Customizable reports to monitor your services, customer satisfaction, revenue, and sales.
Why Is This Different From Other Interpreter Scheduling Solutions?
Most scheduling software available to agencies focus solely on the intake of requests. Instead, we've taken another approach: we've developed an end-to-end, fully-integrated system that streamlines every aspect of your agency's operations, from scheduling to customer invoices and payroll. Now, customers are able to enter their own service requests without calling or emailing you. Reduce the back-and-forth of collecting assignment details and prep documents with customizable forms that capture all the details your service providers need to know. Properly integrated, this means less time typing-up appointment details and more time for you to focus on providing high-quality services to your clients.
How do I get started?
The first step to exploring if Eclipse is right for your business is to contact us for a free, live demo. During this meeting, we will learn more about your business and the needs of your customers. Our software curators will guide you through the process of integrating our scheduling system into your business operations, helping ensure that it works perfectly from day one! We may ask you to fill out a questionnaire so we can get an idea of what language services you provide to assess how Eclipse might best fit into your business needs. After our demo, you'll have the opportunity to sign up for a 7-day risk-free trial of Eclipse to explore its powerhouse of industry-leading features.
How much does it cost?
Our scheduling software is designed to meet your business needs without breaking your budget. We know language service agencies work hard to stay competitive in an ever-changing industry; our platform works just as hard to provide you with a stable and effective management solution at an affordable price – just $199/month to start! Rest assured that you'll always have access to our help desk, day or night. Sign up for a 7-day free trial today or dive into a whole year of Eclipse and earn 1-month free!